Main Page
From Arindal Wiki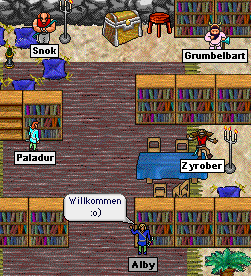 IMPORTANT: Before you start actively editing articles first read HERE what you need to watch out for and how it works at all. :o)
Welcome to the Arindal-Wiki!
In this wiki you will find a huge archive of knowledge about Arindal. It can help you to find your way in the world and give you information as up to date as possible. You will find all the creatures in the bestiary, help with macros, translations of common phrases aswell as Maps and descriptions of different Places and regions. The Stormlog will inform you about recent changes to the world.
Feel welcome to the Arindal Wiki and if you like help a little with keeping it up to date and enlarging it, it is pretty easy! ;)
If you got interesting news, informations or drawings which you don´t want to or can´t implement by yourself just write a message to the Admins of the wiki, who will try to implement this as soon as possible.
If you search for an item, but don´t know any other name for it than the one in your own tongue look for the right colour. The english name is displayed black, the german name is displayed blue, the french name green and the dutch name orange.
---
22.10.2008

The world map is now available in english!
Copyright Notice
All in-game graphics and screenshots of Arindal are © Copyright 2004 FairTales Entertainment (NL) & Delta Tao Software. All rights reserved.